BEST 5 MASSAGE CHAIR
Deals for Cyber Monday
By Massage Chair Technicians
Finding the best massage chair is hard. There are literally hundreds of choices to choose from, and when you buy the wrong one it's a nightmare to fix. Over the years we have fixed thousands of massage chairs. While some chairs are a piece of cake to fix, others are practically impossible to fix. Customers always ask us which chairs are good and which ones are not. To help you avoid buying poorly made chairs, we have made a list of things to watch out for when trying to buy a massage chair for Cyber Monday.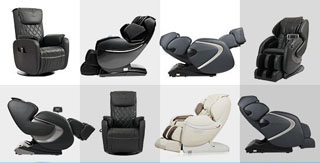 Massage Chair Technicians' Experience - We are tired of hearing from customers who get frustrated when the chair they just bought breaks down. They had it for less than a year and it's already falling apart. What's the point of buying a massage chair if it is going to break within a year? That's why we only recommend chairs that rarely break down. Over the past few decades, we know which chairs last for 10 years and which ones cause problems in the first year. The chairs we recommend must be able to last at least 10 years with very little issues.


Innovation - Some companies spend very little on R&D. They continue to build chairs that use old technology. A lot of new chairs go beyond just massaging you. They are very good for you medically as well. Some chairs can easily remove all of the aches and pains in your body because they are made by doctors and chiropractors with decades of experience. Other chairs have the Human Hand Massage System™ that makes it feel like you have a real masseuse in your own home massaging you. Many of these newer features are great for your health. In order to get to the top of our charts, we compare each chair side-by-side to make sure the ones with the most innovative features and the most research and development is at the very top of the chart.


Quality of Mechanical Components -Some chairs are very hard to fix once they break down. They take 6 hours to take apart and put back together. If the chair isn't aligned correctly, no matter how good of a technician you are, it's really hard to put it back together. If you've worked on enough massage chairs then you will know that some chairs are very difficult to repair. Any massage chair we put at the top of our chart must be extremely easy to fix.


Quality of Electrical Components -Electrical components on a massage chair are one of the hardest problems to fix. Some companies make chairs component based, so if something goes wrong then you can just replace the bad component and you're done. If the remote is broken, you don't have to mess with the electronics on the chair. All you have to do is unplug the old remote and plug in the new one. It's that easy. These kinds of chairs can usually be fixed in less than 30 minutes and cost very little to fix. These are the kind of chairs that get to the top of our chart.


Customer Service -After you purchase the chair, how hard is it for you to get a hold of the company for support. Some companies have excellent customer service and always answer the phone on the first ring, while others disappear off the face of the planet. Their chairs are made so poorly and they have so many problems that it's hard to get a hold of them. That's why you have to call them 5 times to get them to do something. We would never recommend any company that has lots of complaints or any company that does not return your call within 1 day. For a company to be on our chart, they must have excellent customer service ratings.


Price - Price is the most important aspect of buying a massage chair. Each massage chair on our list must not only be the best chair, it must also have the best pricing. We want our friends, family and you to get the best bang for your buck for Cyber Monday. That's why we spend a lot of time researching, attending trade shows, and scouring the web for the best prices so you don't have to spend hundreds of hours searching for them yourself.
After all of the research we did, we would like to say that we found 10 massage chairs that we could recommend but the problem is most of the chairs aren't that good. After reviewing all the chairs, we only found five that we could recommend. Below are the Best 5 Massage Chairs for November, 2023.

Best 5 Massage Chair
Deals for Cyber Monday!
1. MB Series Massage Chair

2. MAJ7 Real Pro ULTRA™ Massage Chair

2. MAJ7 Real Pro ULTRA™ Massage Chair
Panasonic makes very high-quality chairs. Its design is smooth, sleek, and simple. It easily goes from being a regular chair to a massage chair in a matter of minutes. The thick pads on the back provide extra comfort and add to the overall sleek look you'd expect from a Panasonic. Combining 33 airbags along with the advanced roller system, you're sure to feel relaxed. Features like the Heated Foot Massage, Junetsu Massage, Double Heated Rollers Heads and the Body Scan technology really bring out the best in this chair.
Along with the looks and the massage features, this chair comes with a user-friendly design. The LCD screen on the remote allows you to see where on your body you are getting a massage and at what intensity it is being performed. The medium size of the remote allows for easily seen buttons and functions without squinting your eyes.
Conclusion:
As always, Panasonic makes very nice products. It has lots of bells and whistles, but the only problem is a lot of the technology is outdated. Although Panasonic is a large company, they are not heavily focused on their massage chairs. Most massage chair companies have a higher number of airbags and more stretching functionalities. The reason it makes it to our list is the quality of their chair is very well made. If you are looking for the best price with the most features, there are better chairs out there. On the other hand, if you are looking for just a massage chair, the Panasonic is a good choice.

Click Here To See A Complete Review
Cyber Monday Special
3. Fujimi EP8800 Massage Chair

3. Fujimi EP8800 Massage Chair
Japanese technology has once again lived up to its reputation. Fujimi has produced a chair of quality that stands to last for long term usage. That's why this chair is at the top of our list. The durability and the technology of this chair are something out of this world. It has 8 massage programs for specific users like Rush Group, Old Age Group, Labor Group, and Student group, so you're sure to find the right one for you. Totaling 53 airbags, you are sure to get a thorough massage from this chair.
With the 12-point physical therapy feature (which seems to be a favorite), your sore muscles are relaxed quite quickly. This feature also keeps your power consumption as low as possible. The chair includes 3D intelligent massage technology which can detect the structure of your body to massage it with just the right amount of pressure. The technology put into this chair has definitely given it an edge up on the high-end massage chair market.
Conclusion:
One of the highest quality chairs ever made, Fujimi EP8800, is very durable. It is loaded with functions and although there are only 8 massage programs, when you combine them with different types of massage methods such as shiatsu, kneading, tapping, and rolling massage; the number of massage settings is high. The only problem with this chair is there are very few air bags. With companies like Inada having well over 117 air cells, having 53 airbags is a little low and might give a rough massage.
Click Here To See A Complete Review
Cyber Monday Special
4. Omega Montage Pro Massage Chair

4. Omega Montage Pro Massage Chair
Combining Japanese, Thai and Chinese massage techniques, this chair has 5 automatic massage treatments. With 30 designed airbags to provide a compression massage throughout your whole body, your stress is sure to melt away. It features the Zero-Gravity function to distribute the weight over your back and improve your circulation. With fingertip controls inside the armrests, you're able to adjust the massage and position it while still getting your massage.
Having the two color choices is also very nice. You could go with the classic brown or live it up in the black with brown detailing. It has a detachable headrest, detachable seat cushion and a removable back pad; so the comfort is all up to you. Having the option to choose the automatic programs or target certain areas of the body is a real plus. It also has a built in music system so you can relax and let the stress disappear.
Conclusion:
From a technical point of view, this chair is fairly easy to fix. The arms are held together by a few screws and easily comes off. The pads are also easily removable. The chair is well priced. If you are looking for a decent massage chair, this is one you should consider. However, just like the Panasonic, there are a lot more advanced features like the Chiropractic BodyTwist that twists your entire body from side-to-side that is not included in this chair.
Click Here To See A Complete Review
Cyber Monday Special
5. Superior Massage Chair - SMC-6850

5. Superior Massage Chair - SMC-6850
Perfectly combining power and comfort, the SMC-6850 is a stand out in modern massage chair engineering. The chair has a unique wave massage effect for the arms provided by 3 airbags that act independently of each other to help with circulation, pain from arthritis and carpal tunnel syndrome. It has an automatic one-touch Zero-Gravity mode which reclines to a full 170 degrees, taking the pain out of your joints and making you feel light and comfortable.
The system allows you to adjust the timer from 5 minutes to 30 minutes, depending on how long you want to enjoy the massage. The massage you experience is controlled by microprocessors that scan and map your body, so your massage is unique to you. There are 9 distinct 3D massage styles incorporated into this chair such as kneading, knocking, finger pressing (acupressure), tapping, rolling, pushing, compression, tracking, and Thai stretching. These roller massages target your neck, shoulders, back, hips, and waist. You can relax your sore bottom with 9 built-in airbags which apply kneading in the seat and rolling pressure throughout your thighs, hips, waist, and buttocks.
Conclusion:
This chair is very well designed. With its matte and shiny black combination, it looks very luxurious. Combine that with 170-degree full body zero gravity and it is one of the most relaxing chairs you will ever experience. The only thing missing in this chair is the number of airbags. If they had more airbags, this chair would be much nicer. Although it does give a good massage, it's just not as smooth as other chairs that have more air cells.
Buy Now
Click Here To See A Complete Review
Cyber Monday Special