The SMC-6850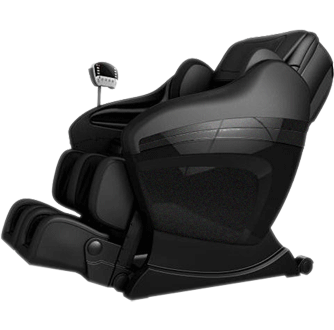 Summary
Perfectly combining power and comfort the SMC-6850 is a stand out in modern massage chair engineering. The chair has a unique wave massage effect for the arms provided my 3 airbags that act independently of each other to help with circulation, pain from arthritis and carpal tunnel syndrome. It has an automatic one-touch Zero-Gravity mode which reclines to a full 170 degrees, taking pain off joints and making you feel light and comfortable.
The system allows you to adjust the timer from 5 minutes to 30 minutes depending of how long you want to enjoy the massage. The massage you experience is controlled by microprocessors that scan and map your body, so your massage is unique to you. There are 9 distinct 3D massage styles incorporated into this chair, such as: kneading, knocking, finger pressing (acupressure), tapping, rolling, pushing, compression, tracking, and Thai stretching. These roller massages target your neck, shoulders, back, hips, and waist. You can relax your sore bottom with 9 built in airbags applying kneading in the seat and rolling pressure throughout your thighs, hips, waist, and buttocks.
Technology
With thorough, laser-precise pneumatic massage techniques and their own unique 3D massage system (with a built-in heat pad technology) this chair testifies to the beauty of technology. Your massage experience is controlled by a series of advanced microprocessors that scans and maps your back, detecting every little bump, curve, and indentation and then re-calibrating the rollers to give you a more perfectly tailored massage. Their waist torsion technology rotates and stretches out your oblique muscles, and provides soothing care to your hip joints and lower spine. The extendable ottoman automatically adjusts to the length of your legs for a relaxed fit.
User Friendly
With a 5-year warranty this chair is very user friendly. It has built in stereo speakers that will customize your massage in sync with your favorite music. Or if you're not sure what massage you'd like, there are 6 automatic programs at the touch of a button. Depending on if you like long or short massages, you can adjust the timer from 5 to 30 minutes with 5 minute increments. With the one touch recline/return, a removable back pad and automatic adjustable leg rests, they really make it easy to accommodate any guests you may have over to try the chair out.
Design
The matte black coloring is a classic look that never fades. It has beautifully stitched synthetic leather which is resilient, and also very comfortable and aesthetically appealing. The heated back pads are designed with you in mind, adding comfortable luxury to all this technology.
Massage styles
The SMC-6850 has 9 distinct 3D massage styles. Using their 3D massage roller technology to its fullest potential they are able to achieve: kneading, knocking, finger pressing (acupressure), tapping, rolling, pushing, compression, tracking, and Thai stretching. This sophisticated robotic massage chair covers 31 inches of travel up and down your spine, from the top of your neck to the base of your sacral vertebrae, and with 9 airbags built into the seat applying kneading, and rolling pressure to your thighs, hips, waist, and buttocks you are sure to drift off into relaxation in no time.
3D Body Scan System
Intelligent microprocessors and advanced optic sensors assess and map your body's shape and further adjust the massage rollers accordingly. It starts by scanning the length of your spine combined with the length of your legs. This ensures a personal massage that is unique to you and your body's needs, and with a wingspan of 7.5', it's sure to get even those hard-to-reach areas.
Shoulder Wrap Pressure Massage
Rollers move up and over your shoulder, at the base of your neck, and will knead the muscles and tendons. The rollers will feel like palms applying strong pressure on your shoulders and neck to really stretch out your muscles.
3D Air Massage
The SMC-6850 features sophisticated airbag cartridges throughout the chair that act independently of each another, which allows for 'wave-like' air massage motions that stimulate muscles. This technique used in the arm airbags improves your circulation to your hands and forearms to help with pain associated with arthritis and carpal tunnel syndrome.
Thai Stretching Massage
Fully covers your ENTIRE back, including those hard-to-reach places, delivering a complete Thai massage that stretches your back and muscles for intense flexibility and muscle relief.
Ankle and Calf Stretching Massage
Each leg rest moves independently of one another and stretch, contract, and expand your ankles and calves for maximum flexibility, circulation control, and comfort. The torsion effect will rotate your ankle in different directions to improve your flexibility and give you relief from standing on your feet all day.
Ankle and Foot Compression Massage
It utilizes a series of airbags to target specific acupressure points on the soles of your feet and around your ankle, providing an amazing reflexology massage. It kneads and presses your feet for fast relief and it can relieve foot swelling and even relax your leg muscles.
Final Thoughts
They've applied many massage techniques to this chair without going overboard. The overall look of the chair is great and combined with the technology put in to it, we can see why it's a favorite for the price.